Model D-CR Drive Roll Heater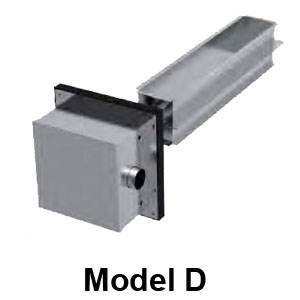 This system is used in place of a standard Model C Belt Heater when it is desirable to have the control unit located away from the drive roll due to inaccessibility or space limitations. The same conditions apply to this model as those stated for the standard Model C heater.
Drive roll slippage due to frost or ice build up on the roll is very easy to treat as long as the combustion chamber an be located close to the drive roll. The combustion chamber is sandwiched between the belt adjacent to the drive roll. In the event that the roll is in an enclosure that contains dust (which could be a fire or explosion hazard), the heater will need to be placed outside of the building. This will require more heat and a larger combustion chamber. Available in standard (shown) or remote models.
Ice buildup on idler rolls or bend pulleys is easily eliminated with a Model D unit. When installing this model, the combustion chamber is located as close to the roll on as possible. This setup will prevent ice buildup on both the upper and lower rolls and in some instances will dry the belt enough to prevent material slide back. Available in standard (shown) or remote models.
For Model C Drive Roll Heater Click Here
Read more information on Eliminating Ice on Rolls, Pulleys, and Idlers.